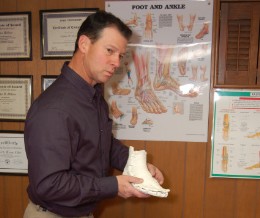 Custom Foot Inserts
Easy Comfort Shoes can supply you with custom foot inserts. As a Certified Pedorthist, Steve has been operating locally as "Advanced Orthotics and Pedorthic Services" for many years.
If you have hard-to-fit feet, or have age-related, work-related or medical reasons why you need the very best comfort fit shoes, then please call Steve right away - he's available to serve you at your location, or at his workshop showroom.
Steve is skilled in the latest custom orthotic fabrication techniques and works with the best brands and materials.
Offering:
Mobile, on location fittings and evaluations - If you can't come to us, we'll come to you.
Custom Made Shoes - We have a wide variety of the best shoes, but can make you custom ones if preferred.
Our objective is comfort, safety and health - Your feet are important to us, we take pride in giving you the best.