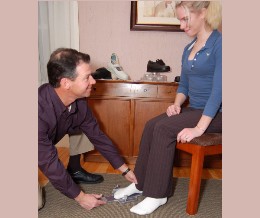 Fittings at your convenience
One thing which distinguishes us from everybody else is the 100% personalized service we give you.
No matter what your circumstances, we make it easy for you to own comfortable shoes.
Here's how we can help:
We have a private showroom (by appointment only). When you come see us, we give you 100% of our attention - we do not divide our time between customers.
If you can't come see us, we come see you - at your location - at a time which is convenient to you.
We work closely with and are recommended by many local orthopedists, podiatrists, doctors, physical therapists, and health care professionals throughout Massachusetts.
We have a long, successful track record of visiting customers at nursing homes, rehabilitation facilities, adult day care facilities and medical facilities.
Stuck at home? No problem - we can come see you in your home.
In addition to custom shoes, we offer many top brand specialty shoes, such as:
Advanced footwear
Apis/Answer 2
Aetrex
Acor
Brooks Sneakers
Comfort Rite
Drew/Barefoot Freedom
Just Sneakers
OrthoFeet
Pedors
P.W. Minor/Canfield
Propet