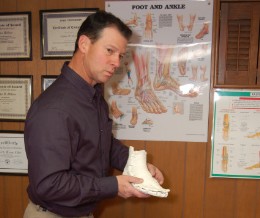 Custom Foot Orthotics
Custom foot orthotics are an effective way to bring foot comfort.
Please call Steve right away - he's available to serve you at your location, or at his workshop showroom. If you have hard-to-fit feet, or have age-related, work-related or medical reasons; that's why you need the very best comfort fitted foot services.
Steve is skilled in the latest custom orthotic fabrication techniques and works with the best brands and materials.
Offering:
Mobile, on location fittings and evaluations - If you can't come to us, we'll come to you.
Custom Made Shoes - We have a wide variety of the best shoes, but can make you custom ones if preferred.
Our objective is comfort, safety and health - Your feet are important to us, we take pride in giving you the best.